Phone: 400-101-6811
Company address: No. 170 Huanghai Road, Economic and Technological Development Zone, Binhai New District, Tianjin
About Us Brand Products Contact Us
Alfa obtains HACCP certification
Recently, Tianjin Alfa Health Products Co., Ltd. passed the HACCP system certification of China Quality Certification Center.
Alfa has obtained the certification of this system, indicating that Alfa's products range from the initial purchase and transportation of raw materials to the storage of raw materials, to the production and processing, packaging, warehouse storage, and delivery and transportation of the final products. All links are strictly implemented in accordance with food safety standards. This is a strong proof of Alfa's level of food safety control.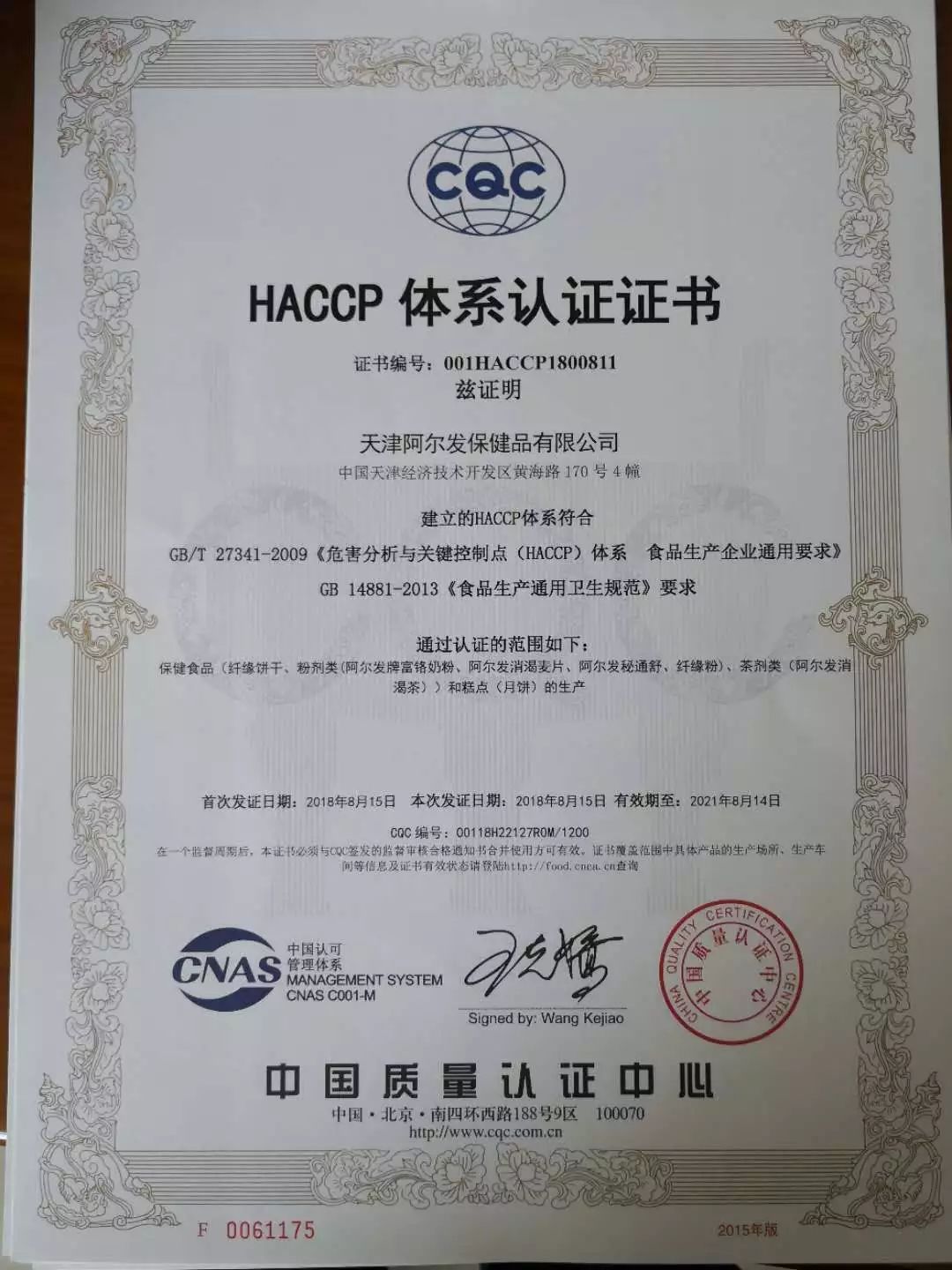 The establishment of HACCP (Hazard Analysis and Critical Control Point) began in the 1960s. It was jointly developed by Pierce Co. in conjunction with the National Aeronautics and Space Administration (NASA) and a military laboratory in the United States (Natick area). The original intention was to provide food safety guarantees for astronauts in space operations. As people around the world pay more and more attention to food safety and hygiene, the food industry and its consumers have become the main driving force for enterprises to apply for HACCP system certification.
In the future production and operation, Alfa will continue to adhere to the concept of "establishing the world with integrity and winning with quality", accept the supervision of certification institutions, and strictly produce in accordance with relevant standards to provide consumers with safe and high-quality products.
Ji Bingxuan, vice chairman of the Standing Committee of the National People's Congress, inspects Alfa! test
Alfa was awarded "China 3.15 Integrity Brand"